Tonlino & Sons Crushed Stone is a family owned and operated business in East Otis, MA, offering high-quality crushed stone products for various construction needs. From small driveways to extensive construction projects, we are able to meet the demands of diverse customer needs with a wide variety of stone and soil products and convenient delivery capabilities.
Tonlino & Sons has the capabilities to produce and meet a wide demand for a variety of needs, from as small as a driveway repair to working with the state and towns on major projects. With over 30 years of experience it allows us to understand products used in the local market. We offer quick and professional delivery of our products from the quarry to any job site, day or night.
Tonlino & Sons Crushed Stone was founded in 2006 by John Tonlino, with his wife Kim, and their sons Jake and Luke. They believed that there was a need for high quality crushed stone materials in their hometown of Otis, Massachusetts. It is built on the same principles that John had used to build his trucking and excavating business.
During the first couple of years, Tonlino & Sons would rely on portable crushing companies to come in and crush the material. In 2008, they decided to purchase their own portable crushing plant. It consisted of: Cedarapids 22×36 Jaw Crusher, Telsmith 1100 Cone Crusher, 6×16 Eljay Screen, 3412 Caterpillar Generator, and 6 conveyors. This allowed them to produce whatever material was needed. After a couple years the demand for high quality material had outgrown the production capabilities. They upgraded the jaw and cone crusher to a larger 20×48 Lippmann and 1352 Nordberg Omnicone to help meet the demand.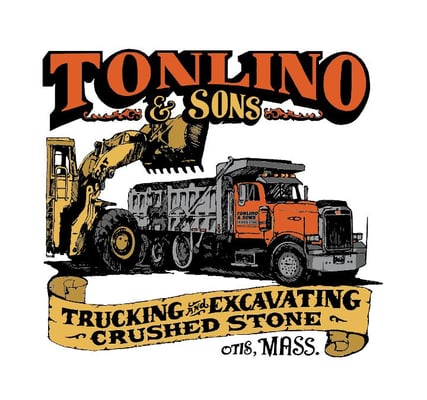 "We offer an unparalleled commitment to fulfilling the customer's needs, and to be fair and honest while doing it."